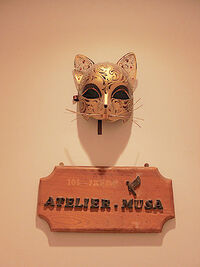 Atelier Musa
(

アトリエムサ

Workshop Musa

)
is a Tokyo-based background design studio founded in 1986 by Shigemi Ikeda through Group Tack and Studio Uni. They specialize in layout and anime background art production, and have nearly thirty-two years of experience in the industry since its inception.
Since its founding in 1986, Atelier Musa has worked on every major title in the the Gundam franchise, from ZZ Gundam, Gundam F91 to the recent Mobile Suit Gundam THE ORIGIN. They've also worked on several films like Arion, Dirty Pair: Project Eden and The Promised Neverland. Their company profile states that majority of their workforce are women, and that anyone who wishes to work for them has to have an interest in cats, as several felines are known to live within the studio.
Their management has stated they want their employees to have a feeling of pride when the staff credits roll during the end of an anime. They also believe that the healing effect of cats can help employees cope with the grueling nature of studio work.
Yukiko Maruyama, one of Musa's staff, was tasked to work on Macross Δ and its theatrical adaptation, Macross Δ Movie: Passionate Walküre.
External Links
Edit
Community content is available under
CC-BY-SA
unless otherwise noted.