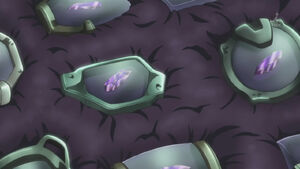 Fold Quartz (フォールドクォーツ, Fōrudo Ku~ōtsu) is rare substance called Fold Quartz is required for manufacturing of Inertia Store Converter. It is derived by purifying Fold Ore, which was then originally used by the Vajra to form a network across the Fold Fault without experiencing time lag.
Overview
[
]
Fold Quartz is a substance produced by purifying Fold Ore. This miraculous substance has allowed the Vajra to form a network across the Fold Fault without time lag.
It is believed that the heirloom passed down from the generation of generations by the Nome family is a fold quartz. It is an extremely valuable commodity for the New United Nations Government, regarded as the key to the advancements in the next generation of communication and fold navigation. The creation of "Artificial Fold Quartz" is currently under development, with little information beyond initial trial stages.
In the visual encyclopedia Macross Chronicle, there are details that the "Bird Human" is equipped with fold quartz that originated from the Protoculture.
Types of Fold Minerals
[
]
Fold ore can be processed into crude ore (also known as mined ore) which is then made into "Fold Coal" which contains many impurities. Fold quartz with low purity is called "Fold Carbon". Fold Carbon has been used in human technology, and is said to be the core component of a fold engine or thermonuclear reaction engine or as a component to an inexpensive version of the Inertia Store Converter.
History
[
]
In the novelization of Macross Frontier, "Fold Quartz" and rubies ​​are shaken by "super space resonance lens", a technology that first appeared in the game Macross VF-X2.
Mao Nome, the leading scientist in Protoculture research, arrived at various conclusions regarding the mysterious substance following several years of archaeological research with the help of Macross Galaxy. She surmised that the energy of time and space was curved at a 11-dimensional level and that the fold quartz can not be generated in three dimensions.[1] Ethical questions were raised regarding the acquisition of these rare minerals during the 2050s, as they required the excavation and possible destruction of Protoculture ruins like those found on the planet Ouroboros. Fold quartz are indeed very limited, though some could be acquired from captured or dead Vajra, many of which were recovered by the New United Nations Spacy.
Interstellar conglomerate Critical Path Corporation's president, Manfred Brando was aware of the value of the mineral and helped fund Mao's research mission aboard the 117th Research Fleet. It is believed that the company had longstanding relationship with her.[2]
References
[
]
External Link
[
]