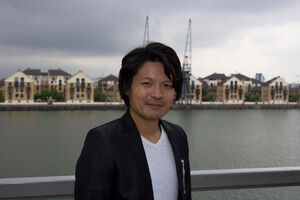 Hidetaka Tenjin
(

天神 英貴

Tenjin Hidetaka

)
born in 1973. He is a Japanese CG mecha anime artist, science fiction illustrator and sometimes voice actor. He was born on October 13, 1973 in Hyogo Prefecture. He has worked on a number of
Macross
-related work, including
Macross Zero
,
Macross The Ride
,
Macross Chronicle
and several video games.
Three art books that collected his CG Valkyrie work, Tenjin Hidetaka Art Works of Macross - Valkyries, were released in 2005, 2011 and 2016. He also released an art book WORKS The Art of Hidetaka Tenjin Gundam Macross Art Book in 2010. A commemorative art book, Hidetaka Tenjin's 20th Anniversary Art Book, came out in October 31, 2018, published by Hobby Japan.
Hidetaka Tenjin studied painting alone as a child, and when he was a student, he began making illustrations with pastels and poster paint. He has always been interested in robotics, entering the Shibaura Institute of Technology Faculty of Systems Engineering. He became a freelance CG illustrator, and studied producing jacket illustrations and also offered commentary on CG software.
When Tenjin was in elementary school, he became heavily influenced by renowned illustrator Yoshiyuki Takani, who at the time was making the box art for hobby kits for Super Dimension Fortress Macross, among others. In his youth, he ran a personal portfolio site called "VF-1 Valkyrie Maniax" (currently closed). Through mutual acquaintances, he met Shōji Kawamori, director of The Super Dimension Fortress Macross: Do You Remember Love?
He then became in charge of box cover illustrations for various toys and model products, including plastic models for Hasegawa's Macross variable fighter series. His specialty is aviation illustration, but he also works on robot box art, most notably for the Gundam franchise. He also draws illustrations for package illustrations for video games and video software, posters, and illustrations for trading card games.
He was hired by Satelight, while working freelance, to participate in the production of the OVA series Macross Zero. While he was mainly in charge of adding special effects for the CG models, he worked on color design, image board production, mechanical and creature design as well.
He moonlights as a voice actor and narrator. As a voice actor, he mainly dubs of Western films at "Sunday Western Movie Theater" and so on. As a narrator, he did voice work for "Wide! Scramble". He is currently represented by Kaleidoscope.
Macross Works
Edit
External Links
Edit
Community content is available under
CC-BY-SA
unless otherwise noted.