A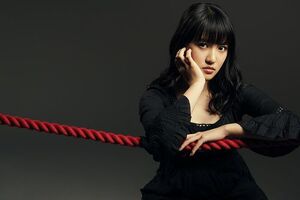 JUNNA (じゅんな, JUNNA), whose full name is Junna Sakai, was born in November 2, 2000. She is a Japanese singer from Nagoya City, Aichi Prefecture. She is represented by Cube, and is under the record label FlyingDog.
She did the theme song for Ancient Magus' Bride and most notably, was the singing voice for Mikumo Guynemer (Ami Koshimizu played Mikumo's speaking voice) in Macross Δ. She is the member of the real-life idol group, Walküre, but also has a solo career also under the FlyingDog label.
JUNNA loved singing karaoke ever since she was in fourth grade.[1] She began her performing live when she reached her sixth grade, singing in local singing competitions, often in duets with her friend, Aichi Uchida. She desired to be a singer on the professional stage, and in 2015, applied for the idol auditions for Macross Delta by Victor Entertainment in Yokohama, cosponsored by her talent agency, Cube.[2] She got her big break when she won the singing voice role of Macross Δ, and the series made its debut in April 2016. She has since appeared in numerous promotional gigs, and has performed live in Zepp stadiums and many others for Walküre Live concerts.
She was only fourteen years old at the time of recording Ikenai Borderline, making her the youngest diva debut in the Macross franchise's history. Allegedly, the Macross Δ team where overwhelmed by her singing ability when listening to the raw audition recordings.[3] At that point, JUNNA's only knowledge of anime had been the classic Sazae-san and Chibi Maruko-chan.
In March 2017, JUNNA announced her solo debut under her personal name. She released his first mini album "Vai! Ya! Vai!" On June 21 of the same year.[4] She has since released several mini and full albums since, preferring rock music. She embarked on an album tour, JUNNA ROCK YOU TOUR in 2018.
She released a follow up single on January 23, 2019 titled Kono Yubitomare (コノユビトマレ) and Iruimi (イルイミ) on July 24, 2019.
JUNNA's hobbies include watching YouTube videos. Her favorite food is (dried foods) snacks. Her favorite artists are Superfly, Ikimono Scale, aiko, ONE OK ROCK, Miura Daichi, and War Star.[5]
Community content is available under
CC-BY-SA
unless otherwise noted.