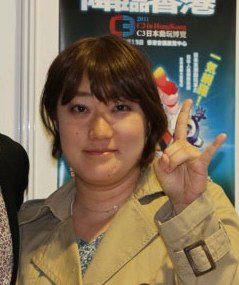 Risa Ebata
(

江端 里沙

Ebata Risa

?

)
is a Japanese female animator, original painter, and illustrator who works for
Satelight
. She used to go under the alias,
Komusume
,
Ehime Mikan
, and
Ahime Mikan
. She also used the nickname
Sai Tamako
, however she has since adopted the name
Risa Ebata
in 2007.
After graduating high school, Ebata immediately went to work for the "eroge" company Sogna in 1996. As their youngest staff member, she was given the nickname "Komusume" and began working as an animator for the "VIPER" hentai series VIPER-BTR. In 1998, she was promoted to work on the film, VIPER-F40, and at the same time, began working on an original anime production called Cyberteam in Akihabara. She then changed her name again to "Ai Mikan" while working on "VIPER-M3-3.2", where she was in charge of character design and drawing director on behalf of Akira Sahara, who had dismissed her predecessor.
After Sogna shuttered, Ebata transferred to Studio G-1NEO and adopted a new nickname, "Ahime Mikan". She became a senior staff member for The Super Heavy God Gravion (known simply as Gravion) and in its sequel The Super Heavy God Gravion Zwei, where she was in charge character design, as well as an animation director. In 2004, she had a new name, "Sai Tamako", and became the character design and drawing director for the long-running "Love Fetish" game series.[1]
She changed her name yet again to "Risa Ebata" and was in charge of character design and design supervision for Macross Frontier. She drew a number of costume designs, illustrations, game box art, CD / home video covers, magazine covers and pachislot art for the divas Sheryl Nome and Ranka Lee. Shortly after that, she was hired by Satelight where she collaborated with director Shōji Kawamori for the AKB0048 (2012 - 13) and Last Hope (2018) series. She would later be commissioned to produce a handful of new illustrations for Macross Δ, including gig posters and special collaboration events. In 2018, she drew the cover for the 10th anniversary Frontier single Good job!, as well as the poster for the Macross: The Art 1982-2018 exhibition in Hyogo prefecture.
References
Edit
Community content is available under
CC-BY-SA
unless otherwise noted.