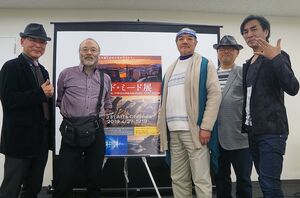 Studio Nue (スタジオぬえ, Studio Nue), formerly known as Crystal Art Studio' in 1974, was a Japanese design studio that primarily focused on science fiction-based work. They were originally based in Shimoishikamii, Nerima-ku, Tokyo.
History
[
]
Many of Studio Nue's founding members were heavily involved in the science fiction (SF) community during the 70s and 80s, having worked on SF hobby magazines, novels, essays, magazines and "mook" illustration books. Their early design work appeared in such shows as Space Battleship Yamato, Galaxy Express 999 and Space Pirate Captain Harlock.
They entered the animation planning business in the 1980s, and together with advertising agency Big West and Artland, began working on the original Super Dimension Fortress Macross television series. It was during this period where they also worked on other seminal SF works such as Crusher Joe, Dirty Pair Super Dimension Century Orguss, Megazone 23 and Legend of the Galactic Heroes.
Many of the concepts, theories, story settings and mechanical designs seen in current robot animation and science fiction works are often based on ideas created by Nue. As an entity that has created a major part of the robot animation culture that has become one of the major genres in the current Japanese anime industry, their achievement is significant. The studio broke up after many of its members began focusing on their individual projects in the 1990s.
Members
[
]
Founders
[
]
Secondary Members
[
]
Notes & Trivia
[
]
See Also
[
]